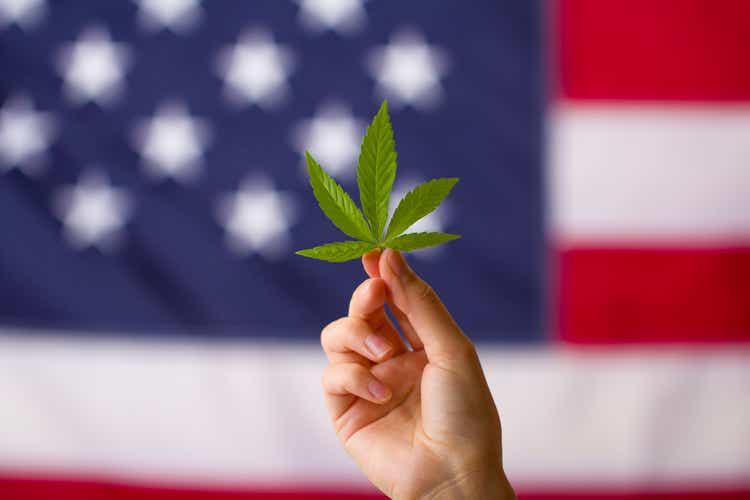 Tilray stock has seen volatile trading in recent weeks, rising lately amid hope that the US will decriminalize marijuana, a move that would open up a potentially massive new market opportunity for the Canadian weed marketer. Is now the time to buy?
Waiting for Cannabis Legalization
Trading of Tilray shares have trended higher so far in August following a choppy showing in July. Overall, the stock has gained 23% over the past 30 days, as of Aug. 10.
The recent upswing is part of a general rally in the sector. In comparison, shares of fellow cannabis purveyors Curleaf (OTCPK:CURLF) have climbed 17%, Canopy Growth (CGC) 44% and Aurora (ACB) 35% over the same period of time. Meanwhile, Cronos (CRON) shares have inched up 2%.
On the flip side, SNDL (SNDL), which recently consolidated its shares, has seen its stock sink 11%. Meanwhile, the S&P 500 has risen 9% over the past 30 days.
Over the past few years, Tilray has been aggressively trying to diversify from its core Canadian cannabis business. The company has been building out its lines of cannabis-related wellness products and hemp-based foods. It's also branched out into craft alcohol with the acquisitions of Atlanta-based Sweetwater Brewing and Colorado-based Breckenridge Distillery.
Tilray has also been active on the cannabis M&A front. The company acquired fellow cannabis seller Aphria in May 2021 and recently bought a large chunk of debt from Hexo (HEXO), which could be eventually converted to a 50% equity stake.
On July 28, Tilray released a mixed Q4 earnings report. The company beat analysts' estimates on revenue, with the figure rising 8% to $153.3M. But the firm also reported a deeper-than expected net loss of 90 cents.
TLRY attributed its bottom-line figure in part to higher interest rates, lower exchange rates and a shift in "strategic priorities" due to "changes in market opportunities." The bulk of the company's cannabis revenue, still its biggest moneymaker, is from sales in Canada.
Meanwhile, the potentially blockbuster US market remains elusive as Congress continues to delay passage of legislation that would decriminalize marijuana on the federal level and open up the cannabis sector to institutional investment.
Cannabis stocks rallied earlier this week following remarks by US Sen. Cory Booker that a compromise bill on marijuana reform could be taken up by Congress by the end of the year. However, doubts remain whether such legislation could be passed before a new session is opened in January.
In an interview with CNBC in late April, Tilray Chief Executive Officer Irwin Simon said he believes the company would see $1.5B in U.S. sales if cannabis was legalized on the federal level.
Is TLRY a Buy?
Following Tilray's Q2 earnings report, Benchmark downgraded the stock to Sell in a note dated July 29, citing concern over the company's declining market share in Canada. The analysts also voiced apprehension about price compression and over-supply in the Canadian marketplace, the potential for international growth, and the near-term prospects of federal legalization of cannabis in the US.
Benchmark also noted that 46% of the cannabis market is "channeled through illegal markets, a systemic issue that could be hard to remedy."
Stifel was more optimistic, rating the stock a Hold in their July 31 note.
"With the Canadian market remaining challenging, we believe the shares will be volatile over the near-term with sustained improvement likely slow to take hold," the analysts wrote. "Profitably stabilizing and growing Canadian cannabis sales is key for driving investor enthusiasm."
Wall Street analysts, on average, have a Hold rating on Tilray. Of the 20 analysts tracked by SA, four rated it a Strong Buy, 13 a Hold, two a Sell and one a Strong Sell. SA authors also largely rated the stock a Hold.
Seeking Alpha's Quant Ratings likewise take a neutral stance. While Tilray earned an A- for valuation, a B+ for growth and a B for profitability, it also received a D for momentum and an F for revisions, as of Aug. 10.
For a more in-depth look at Tilray, check out SA contributor Trapping Value's "Tilray Brands: International Growth Not Enough to Offset Canadian Headwinds" or SA contributor The Cannabis Investing Podcast.