Scungilli Salad, made with fresh lemon juice, celery, red onion, garlic, and parsley, is a simple yet delicious Italian dish that's super easy to make. If you love seafood, don't hesitate to give this one a try.
What Is Scungilli?
"Scungilli" from the Italian word "conchiglia," is essentially sea conch or whelk. Scungilli that are sold in the United States is usually wild-caught channeled whelk or knobbed whelk that are harvested in the Northeast coastal waters of the Atlantic Ocean, including New England and Long Island. But it's difficult to find fresh.
This oceanic sea snail with a large spiraling shell is popular in Southern Italian and Italian-American cuisine. But conch is also popular in places like the U.K and the Caribbean as well.
Scungilli is wonderful and used in this salad recipe with a lemon, olive oil dressing, and mixed into other Italian seafood salads, but it also tastes delicious sautéed in red style Italian sauces like marinara or a spicy "Fra Diavolo," served over pasta.
Scungilli is also high in protein, low fat, and low-carb. It's also a good source of vitamins like B12, folate, vitamin E, and minerals like potassium and iron.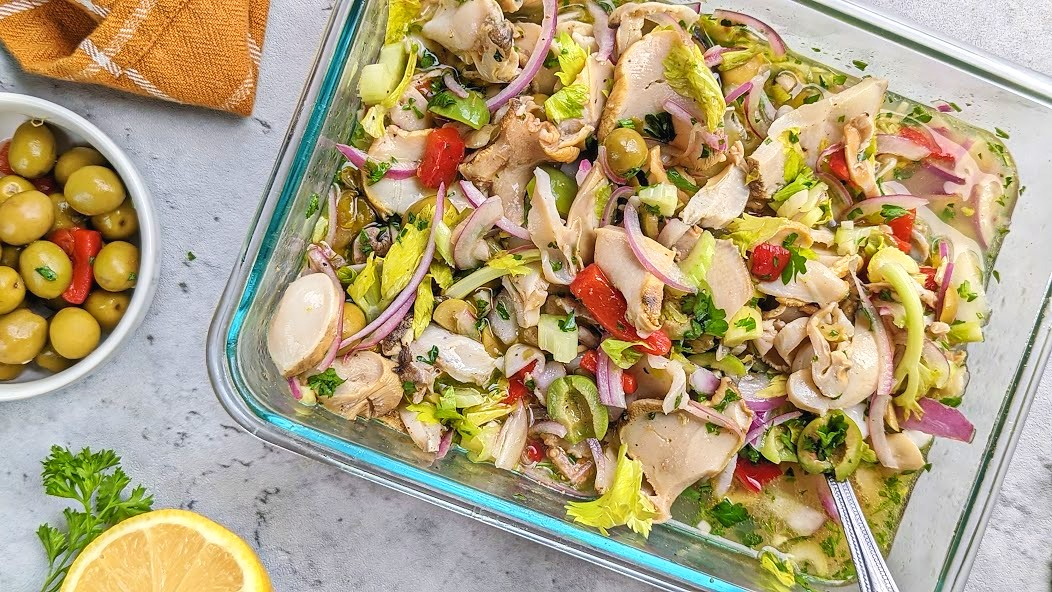 About The Recipe: Scungilli Salad
Scungilli Salad is a traditional dish usually served in Southern Italian and Italian-American homes for the seafood-centric Christmas Eve holiday meal known as "Feast of the Seven Fishes" (Festa Dei Sette Pesci).
But cool and lemony, with fresh ingredients like celery, red onion, green olives, parsley, and olive oil, Scungilli Salad, also makes a seafood treat that's perfect for enjoying during the warm summer months. And seafood lovers who don't give it a chance are missing out on something delicious.
The thing about scungilli is that it's hard to find fresh. But luckily today, you'll most likely find this edible mollusk cooked, sliced and ready-to-go in the can at well-stocked fish markets, Italian markets, or International grocery stores. And it's what we'll be using for this recipe.
We've included links down below where you can purchase it online.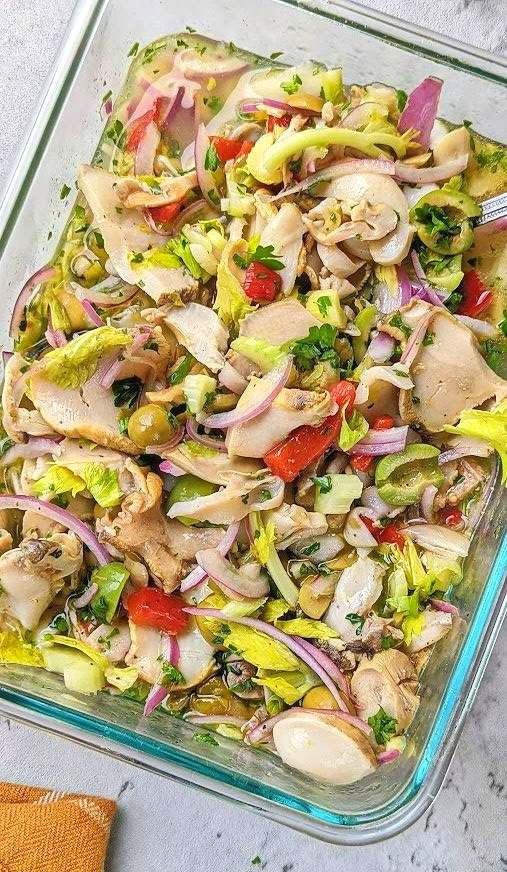 What Does Scungilli Taste Like?
Scungilli has a similar texture to perfectly cooked calamari. If you love shellfish, you'll most likely love scungilli as well. It's tender and firm, with a mild, slightly briny, and sweet delicate flavor. There's no fishy taste, so no need to worry about that.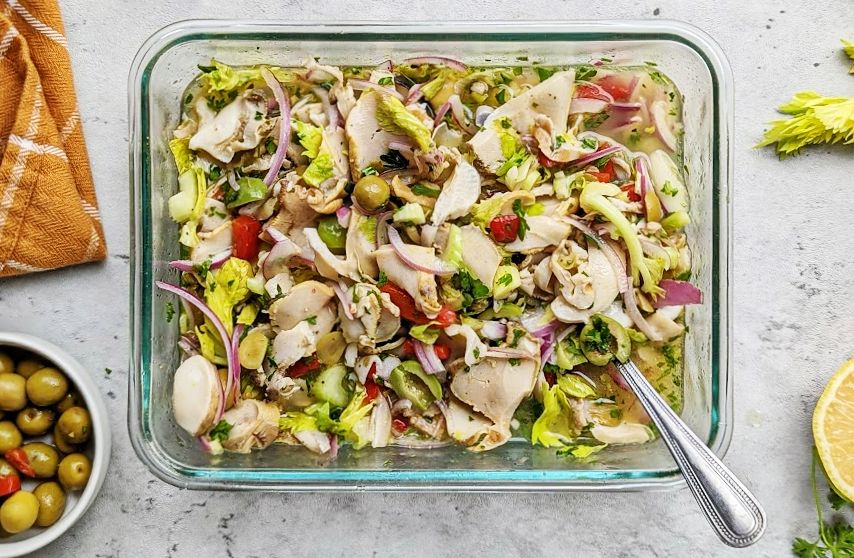 Scungilli Salad Ingredients
Scungilli (canned): Precooked and sliced, canned scungilli is quite delicious and makes cooking with it super easy. It's usually found in the same section as the canned seafood like clams in 6-ounce or 29-ounce cans. A 29-ounce can make about 4-6 servings of this salad.
Some grocery stores, well-stocked fish, and Italian or International markets carry it. Find it in the same section as other canned seafood like clams.
To save time shopping, here are places you can order scungilli online:
Celery: I prefer to use the leafy stalks closer to the center of the head of celery.
The leaves add a touch of freshness, and the stalks are ‌more delicate. Use 1 large or 3 smaller inner leafy stalks.
Red onion: The sweet and pungent flavor of the red onion works nicely with the other ingredients. About ¼ of a small red onion is all you'll need.
Green Olives: Go for a green olive with a salty finish. Sicilian-style green olives work wonderfully, but I often use the pimento-stuffed manzanilla-style olives as well.
Capers: Capers, add a delicious salty bite to this salad.
Parsley: With a herbaceous flavor and a delicious complement to seafood of any kind, this salad calls for only the fresh stuff.
Lemons: Fresh lemon juice makes up the base for the dressing on this salad. Have extra on hand in case your lemons aren't that juicy. 2-3 usually does the trick.
Extra Virgin Olive Oil: Use the best quality possible.
Garlic: The garlic is wonderful with the fresh lemon and parsley in this dish. Go with 2 cloves, finely minced to start. You can always add more if you like.
Crushed Red Pepper: Adds a touch of heat, but you can skip it if you don't like the spicy stuff.
Pepper + Salt
How To Make The Best Scungilli Salad
1 Prep: Rinse all your veggies (celery + onion + parsley).
2 Rinse & Drain: Drain all the liquid from the canned scungilli using a colander or strainer. Then rinse with cool water. Drain again and set aside.
3 Slice: For this salad, I prefer slicing my celery and onion thin. It makes for a more delicate bite. If your olives are large slice them in half.
4 Toss Ingredients Together: Add all the ingredients to a mixing bowl, mix, and then taste for seasoning. I usually add a touch of more lemon or salt. Keep chilling in the refrigerator for up to 1 hour or overnight.
5 Serve: Serve plated alone or over on a light bed of greens. The peppery bite of arugula pairs beautifully, but mixed greens work well too.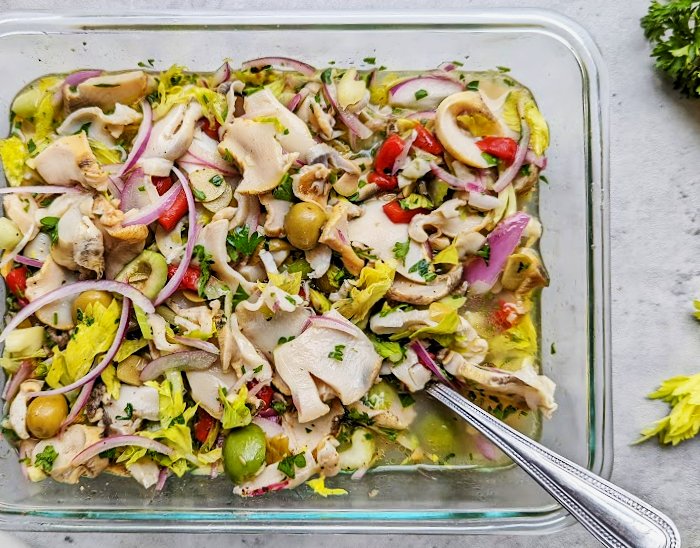 How Long Does Scungilli Salad Last?
It's best to enjoy your scungilli salad within 3 days for optimal freshness.
We love it so much that, honestly, leftovers never last long enough to sit around in the fridge.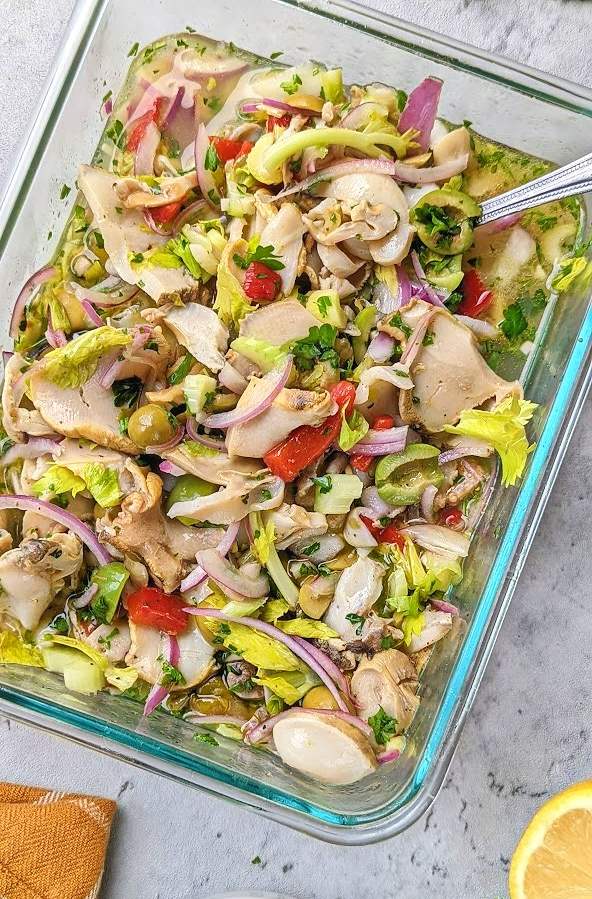 Scungilli Salad Tips
Make It Ahead of Time: You can make this salad a day in advance which can allow it to marinate in the lemon juice. Store it in the refrigerator until ready to serve.
Add Some Zest: For extra lemon flavor, use the zest from one lemon and add it to the salad.
Get The Recipe!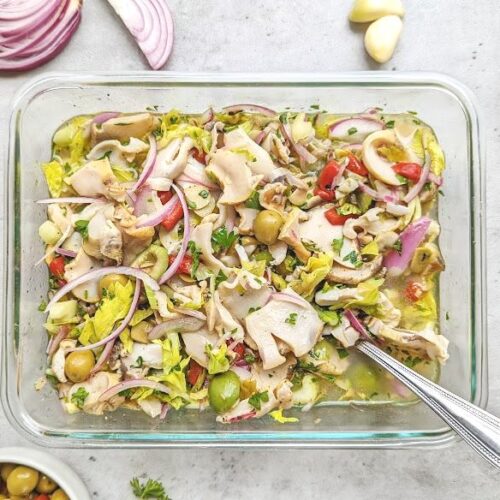 The Best Scungilli Salad Recipe
This fresh and lemony salad is traditionally served for the Italian Christmas Eve celebration 'Feast of the Seven Fishes,' but it makes a lovely summer salad too. Serve with antipasto, baked clams and a glass of pinot grigio for the perfect light dinner. (Low-Carb, High-Protein, Keto-Friendly, Gluten-Free)
Ingredients 
1 – 29 ounce

can

Scungilli, rinsed and drained

3

inner celery stalks, sliced with leaves (or use 2 large)

1/4

cup

red onion, thinly sliced

1/4

fresh

parsley, chopped

1/3

cup

green olives

2-3

lemons, juice of

1-2

cloves

garlic, minced

2

tbsp

capers

1/2

tsp

pepper

1/4

tsp

salt

2

TBS

extra virgin olive oil
DIRECTIONS 
Add all the salad ingredients (except the olive oil) into a medium mixing bowl and toss together.

Add olive oil and then toss together once again until combined.

Taste and add more lemon juice, salt or pepper if needed.

Serve and enjoy!