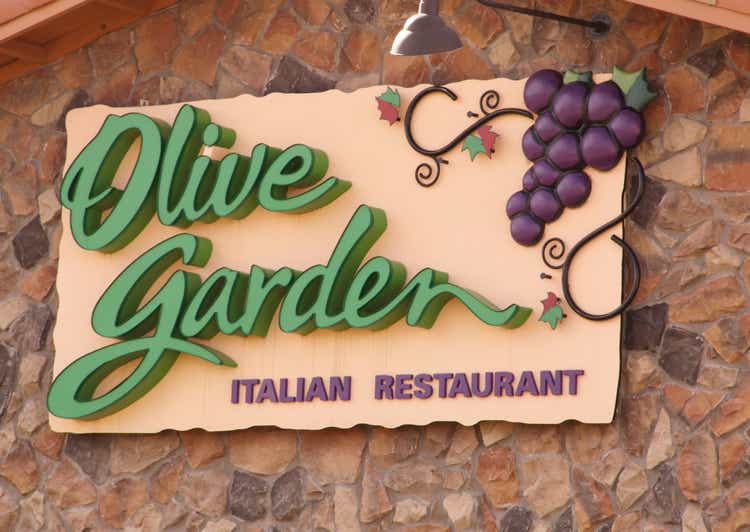 The restaurant sector may be underrated for its potential to generate strong long-term returns through good economic times and bad,
Over the last ten years, large-cap restaurants stocks have generated a 17% CAGR total return to outperform the 13% CAGR return for the S&P 500 Index, per data from Evercore ISI. The outperformance has been due to EPS growth and not valuation, according to analyst David Palmer.
"Restaurant stock valuation has expanded from 21x to 24x over the 10 years while EPS growth has been 13%. This compares to an 4x P/E turn expansion for the S&P 500 and 7% EPS growth from overall large cap stocks."
Per Palmer's thinking, some of the key factors to consider with the bull case for large cap restaurants stocks are that the drive-thru format ultimately creates pricing power, the increased franchised mix at McDonald's (MCD), Yum Brands (YUM) and others is helping earnings visibility, and the growing international footprint for some chains.
Meanwhile, Evercore ISI's scan of the holding of large mutual funds showed they are significantly underweight McDonald's (MCD) and Starbucks (SBUX) in comparison to the weighting of the two stocks in the S&P 500 Index. The firm noted it was surprised to see MCD underweight given the outperformance and bullish tilt of sell-side recommendations. While SBUX is an underweight position for big funds, Evercore ISI thinks the company will be meeting with many of those fund managers early next month. Of note, the funds were also slightly underweight on Domino's Pizza (DPZ).
On the flip side, big funds are heavily overweight Darden Restaurants (NYSE:DRI) with the dividend yield seen as attractive. Chipotle (CMG) is another large cap restaurant favorite of big funds as one of the top growth stories in the sector.
The top performing restaurants of the year through May 19 were Carrols Restaurant Group (TAST) +272%, Red Robin Gourmet Burgers (RRGB) +148%, Shake Shack (SHAK) +60%, Chipotle (CMG) +52%, Potbelly (PBPB) +50%, and Wingstop (WING) +50%.
The restaurant stocks with the highest Seeking Alpha Quant Rating are Darden Restaurants (DRI), Arcos Dorados (ARCO), Ruth's Hospitality (RUTH), Red Robin Gourmet Burgers (RRGB), and BJ's Restaurants (BJRI). Collectively, the restaurant sector has a higher percentage of Buy or Hold Quant Ratings than other sectors.
More on restaurant stocks: