Creating eLearning Experiences Supported By Science
Every L&D program should be unique based on your organization's objectives, current gaps, and employees' goals. However, there are a few tried-and-tested approaches supported by science that you may want to factor into the design process. This eBook explores how to hit your learning KPIs with the help of 3 theories that are backed by scientific principles and research.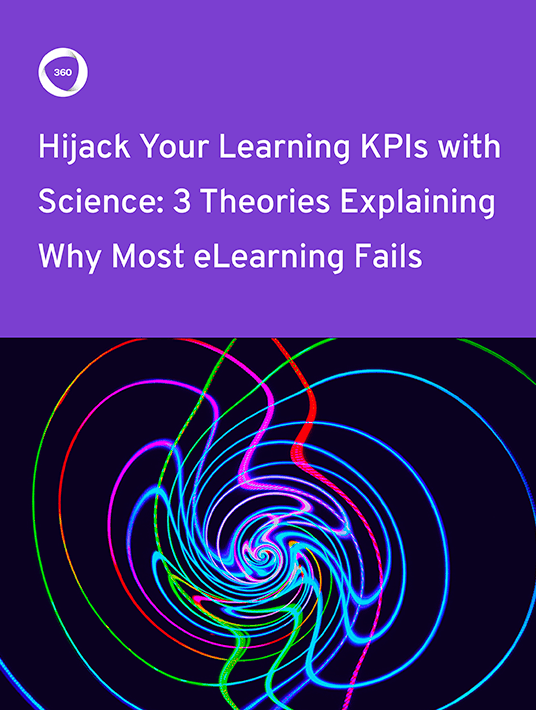 eBook Release
Hijack Your Learning KPIs With Science: 3 Theories Explaining Why Most eLearning Fails
Traditional eLearning isn't cutting it anymore. Instead, we need engaging learning driven by human interaction.
Why Learning Science Holds The Secret To L&D Success
Many eLearning experiences fall short because they don't put learners in the driver's seat. Instead of allowing them to explore the subject matter in a collaborative environment where they can ask questions and evaluate the topic from different perspectives, these programs force learners into a more passive role. However, this eBook unlocks the secrets of learning science by delving into 3 theories that can transform your training strategy. For example, implementing active learning to empower and engage learners so that they're able to evaluate all sides of a problem, tap into their decision-making skills, and discuss ideas with their geographically dispersed peers.
About This eBook
Are there proven strategies you can use to improve participation and create sticky L&D experiences? How can you leverage collaborative learning to foster practical experience and facilitate knowledge sharing among remote teams? Here's a sneak preview of what you'll find in this guide by 360Learning:
How active learning boosts learner completion rates
What mirror neurons tell us about learning from others
The cognitive neuroscience behind collaborating with subject-matter experts
Sugata Mitra's 'Hole in the Wall' and 'Granny Cloud' experiments
People learn from people–why collaborative learning is the solution we need
How To Get Your Copy
Download the eBook Hijack Your Learning KPIs With Science: 3 Theories Explaining Why Most eLearning Fails today to boost engagement and launch a collaborative learning strategy that gets results.