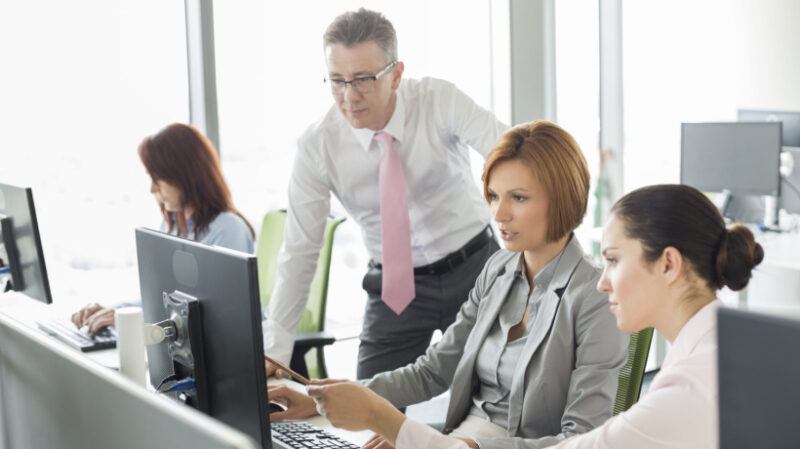 IT Onboarding Checklist To Help Your New Hires
From software to hardware, your new hires need to get familiar with the equipment and tools they are going to use every day. The process of training employees on the use of their technological equipment is called IT onboarding. In this article, you'll learn about the importance of IT onboarding and the best ways to incorporate it into your L&D process.
What Is IT Onboarding?
IT onboarding is the process of training new employees on tasks that are done through certain applications, devices, software, and other tools in order to transition into their new roles seamlessly. IT onboarding can include giving the employees access to their credentials, setting up their new equipment, etc. Keep in mind that some employees may need to be onboarded differently according to their roles.
Why Is It So Important?
Studies have shown that most employees agree that the IT onboarding process helped them acclimate from day one. Imagine how frustrating it might be to arrive at your new place of employment with first-day nerves in full swing, and not having your equipment ready, or having to figure out how to log in to your computer and use software that you've never used before. Having someone guide you through the process of figuring out new equipment and programs makes the experience less overwhelming. Employees also feel safer, as they have resources on-hand to explain all of the security protocols and safe practices rather than trying to figure everything out themselves. This gives them the opportunity to train on cybersecurity before something happens, as they'll already be aware of common safety threats and risks. Last but not least, the IT onboarding process will make the new hires feel more comfortable with their new tools, which will help them do their job more efficiently and build self-confidence.
The Best Practices For IT Onboarding
Now that you know what is IT onboarding and why it is important, it's time to implement the strategy. Keep in mind that the process should be carefully planned and structured to cover as much information as possible without causing cognitive overload. It is important that all the new employees are able to access this information, even after the onboarding. Read below the best practices of IT onboarding to help every new member of the team find their technical footing.
1. Create And Use An IT Onboarding Checklist
Make the IT onboarding process easier by creating a checklist. Share it with your new hires so that they can track their progress and know where they stand with their IT knowledge. First of all, you need to figure out which tools and equipment are required. Then, create the necessary accounts. Your new hires will get satisfaction knowing that they have completed all of the essential steps. A fully checked list can be motivating, as it creates a sense of accomplishment. Some things to include on your IT onboarding checklist are equipment, tools, corporate emails, account credentials, hardware and software setup, and training certifications.
2. Schedule Meetings For Training
Host a group meeting to train your employees in using their new equipment. They can all share their questions and offer tips that they've uncovered from their own experiences. For example, you can schedule meetings to help them set up their new accounts or share specific training on a program they'll need from square one. Make sure you also schedule follow-up meetings to ensure everything has gone smoothly.
3. Inform Them On Security Policies
Employees often have to handle confidential information about their company. This is why it is important to educate them on security policies concerning their accounts and equipment. For instance, you can advise them on how to use the 2FA that's in place or to install an antivirus program on their devices. Create videos that show them step-by-step what to do if their account is breached. You can also outline specific guidelines and other security policies so that they can access these video-based resources whenever the need arises.
4. Automate The Process
It can be tricky to create multiple accounts and set up multiple devices at the same time. An easy way to do this is by automating IT onboarding to avoid human error, which can be expected when there's so much happening at once. This is another case in which an online checklist comes in handy, as it will make the process more transparent. Automation takes it a step further, as you will receive a notification at each step of the way, seeing where you can intervene in case they encounter a problem.
How to Make Sure IT Onboarding Goes Smoothly
Of course, there are things that might go wrong with IT onboarding. However, these tips can help to ensure that the process goes off without a hitch.
Inform Your IT Department
Make sure your IT department has all the necessary information regarding your new employees and their roles. Ideally, they should have all the details in order to know what to set up and what equipment to prepare beforehand. They will also need to set up new accounts or resolve any issues with outdated software in advance to help expedite the process. Finally, be sure that you have all of their information added to your Learning Management System so that new employees can log in and access resources straight away.
Be prepared
Don't wait until their very first day to buy their equipment or any other materials they may need. New recruits should be able to dive right into their IT onboarding versus losing time in getting everything prepared. If they're working remotely, you'll also need to ensure that the necessary tools arrive in time so that there aren't unexpected delays.
Be Available
You should keep an open line of communication even after the IT onboarding is over. People may encounter all kinds of issues with their equipment, and it's comforting to know that they have that technical safety net. Also, check up on them after they are done with the process to gather feedback and let them know that they can reach out to you if they ever encounter difficulties.
Conclusion
The IT onboarding process helps your newest team members to get comfortable with their new equipment and the programs they are going to be using to get the job done. It also makes them feel safer and more confident since they can gain a better understanding of the safety protocols in place and learn how to handle common challenges they may encounter along the way. Some of the best practices include creating an IT onboarding checklist to track their progress, scheduling meetings to follow up and identify areas for improvement, and automating the process to make it easier.
Visit our online directory to find the best employee onboarding software for your organization. You can filter by features, pricing model, deployment, and licensing type to simplify your search.