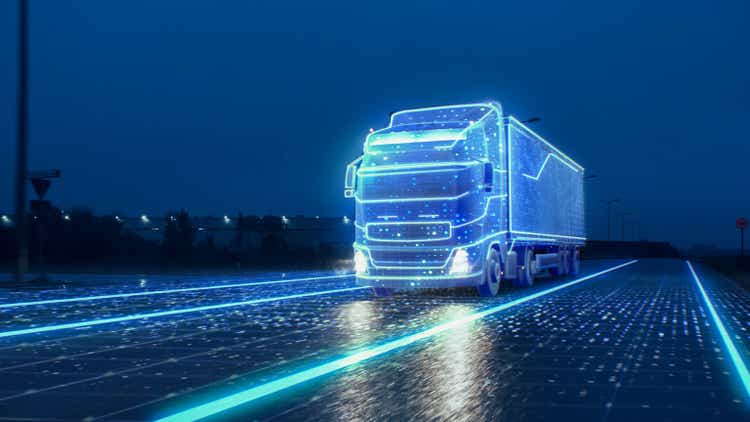 Cathie Wood's Ark Invest said Tuesday that Tesla's (NASDAQ:TSLA) Cybertruck can disrupt the retail truck market just as the firm's flagship EV has been doing for the car space.
The investment firm, known for its ETFs focused on disruption and innovation, argued that most mainstream analysts and economists have reached the wrong conclusion about the electric trucking market, just as they mistakenly thought electric vehicles would only make up a niche part of the larger auto market.
In an investor note, ARK Invest pointed to statistics from the U.S. Energy Information Administration indicating that trucks will represent 69% of all vehicles across the U.S. by 2050, but electric trucks will only see a 10% share of the total.
Ark Invest disagreed with this assessment. "In addition to 1.5 million existing Cybertruck reservations, early Google Trends data suggest that the Cybertruck could be as mainstream as the Tesla Model Y," the firm stated.
The note added: "While sell-side analysts may be uncomfortable forecasting exponential EV growth, we believe it would be a mistake for them not to consider the implications Cybertruck success could have for traditional automakers."
Ark also pushed back against EIA statistics indicating that the U.S. EV market share will plateau at ~14% in 2040. "According to our research, global EV market share is likely to scale to 70%+ by 2027," Sam Korus, Director of Research, Autonomous Technology & Robotics at Ark Invest, stated.
See below how Cathie Wood's actively managed ETFs have fared in 2023:
ARK Innovation ETF (NYSEARCA:ARKK)

+28.4%

.
ARK Next Generation Internet ETF (ARKW)

+35.4%

.
ARK Fintech Innovation ETF (ARKF)

+33.1%

.
ARK Autonomous Technology & Robotics ETF (ARKQ)

+20.3%

.
ARK Genomic Revolution ETF (ARKG)

+14.8%

.
ARK Space Exploration & Innovation ETF (ARKX)

+9.7%

.
More on Ark Invest: