By Lambert Strether of Corrente
Bird Song of the Day
Polynesian Triller, Tongatapu, Tonga.
* * *
Politics
"But what is government itself, but the greatest of all reflections on human nature?" –James Madison, Federalist 51
"They had learned nothing, and forgotten nothing." –Charles Maurice de Talleyrand-Périgord
"Here's food for thought, had Ahab time to think; but Ahab never thinks; he only feels, feels, feels" –Herman Melville, Moby Dick
Abortion
"The Kansas abortion vote, in one graph" [WaPo]. The graph:

"The figure below compares the level of turnout by county (along the X-axis, with higher turnout to the right) compared to the percentage of voters in each county voting against the amendment (along the Y-axis). Counties voting to protect abortion rights are higher on the Y-axis, and those voting to restrict abortion rights are lower on the axis…. The counties voting to reject the amendment tended to be reliable Democratic areas. But party affiliation alone can't explain the outcome. Even in traditionally Republican counties, more voters rejected the amendment than we would expect from partisan behavior alone…. On average, counties voted "no" on the amendment by a margin of 9 percentage points higher than they voted for the Democrats' gubernatorial candidate, Laura Kelly, in 2018. What's more, "no" performed almost 20 percentage points higher by county than Democratic presidential candidates Hillary Clinton and Joe Biden in 2016 and 2020, respectively. Here's an example — while Republican presidential candidate Donald Trump carried conservative Ellis County by more than 70 percent of the vote in both 2016 and 2020, support for the amendment (the "yes" votes) in the county peaked at less than 60 percent." • Just possibly, hopeful news for Democrats in the midterms.
Biden Administration
Great mask discipline:

After coughing into his hand during his entire speech, Biden proceeds to shake hands with everyone in the crowd. pic.twitter.com/ZkQnQ8QWUF

— Washington Free Beacon (@FreeBeacon) August 9, 2022

To be fair, the recording doesn't show Biden coughing, and fomite transmission is very rare. But wowsers, do those guys love to share air!
2022
* * *

PA: "John Fetterman is Running a Test that Democrats Need to Watch" [Politico]. "While consultants and organizers talk about the need for rural talking points and investments in rural newspaper and radio buys, this politician has deployed the most obvious strategy for making inroads with rural voters: He showed up in every county in his state. Then, he did something really remarkable: He showed up again. That candidate is John Fetterman, who secured the Democratic nomination for U.S. Senate in Pennsylvania's May primary with a robust 59 percent of the vote and currently holds the lead in general election polling. Fetterman lived up to his 'Every County, Every Vote' slogan. On a single Saturday in early May, for example, he visited five counties in north-central Pennsylvania, part of the state's 'rural T' — the vast area which form a big 'T' on the map between the Philadelphia and Pittsburgh metro areas and north to the New York state line." • Too lazy to find the link, but Obama attributed doing well in Iowa 2008 to simply being willing to show up. More: "When it comes to abortion rights and unions, Fetterman has been known to use the word "sacred," and he has been particularly vocal since the Supreme Court overturned Roe v. Wade in June." • See above on Kansas under "Abortion."

PA: "John Fetterman announces first campaign rally since suffering stroke in May" [CNN]. "Pennsylvania Democratic Senate candidate John Fetterman will make his full return to the trail on August 12 with a rally in Erie, his first full campaign event since suffering a stroke in May. The return represents a significant step for Fetterman, who has only headlined a fundraiser and informal campaign gatherings while recovering from the stroke…. Erie is a strategic spot for the Democratic candidate — Erie County voted for Barack Obama in 2008 and 2012, then switched to Donald Trump in 2016 before swinging back to Democrats in 2020 by narrowly backing Biden. Democratic Gov. Tom Wolf, with Fetterman as his running mate, carried the county by more than 20 points in 2018."

PA: "Pennsylvania Senate Race: Fetterman leads Oz in new poll" [WHTM]. "A new Pennsylvania Senate Race poll shows Democrat John Fetterman holding a double-digit lead over Republican Mehmet Oz. The poll was conducted by Momentive/SurveyMonkey for Center Street PAC, 'a nonpartisan political action committee focused on promoting rational governance and combatting extremism.' Of the 1,206 voters recorded for the poll between July 29 and August 1, Fetterman received 47% to Oz's 30% with 23% undecided, a 17% gap between Fetterman and Oz. Oz's support grew to 38% among likely voters, however, Fetterman's support also grew among likely voters to 52%…. Fetterman also received 17% support from voters who supported Donald Trump in 2020."

PA: "Fetterman Tries to 'Weirdify' Dr. Oz in Senate Race — and Builds Polling Lead" [Bloomberg]. "That contentious primary and Fetterman's onslaught have left Oz with a serious enthusiasm gap. Only 35% of Oz supporters back him enthusiastically, and 45% say they support him only reluctantly, according to the Fox News poll. For Fetterman, 68% of his support is enthusiastic and only 18% say they have reservations. Still, it's Oz who's had control of the ground war for the past two months. His team says the former surgeon has made more than 120 general election campaign stops and traveled 2,463 miles in July alone while Fetterman was recuperating." • True enough. Those miles haven't added up to much, have they? Still, it's not even Labor Day yet.
2024
"Trump's Mar-a-Lago home searched by FBI in unprecedented move" [Politico]. "Two sources familiar with the matter said top Biden White House officials were not given advance notice of the raid, which could potentially alter the course of both the upcoming midterms and an eventual Trump-Biden rematch in 2024." Oh, puh-leeze. More: "Though the investigation of Trump's handling of presidential records has been percolating for months, it has largely remained in the background while the Jan. 6 select committee built a case that Trump committed crimes to disrupt the transition of power after his defeat in the 2020 election. The National Archives and Records Administration had confirmed in February that it had sought to recover 15 boxes of records from Mar-a-Lago that it deemed improperly removed, including some marked as 'classified national security information.' The Archives confirmed at the time that it had been in touch with the Justice Department about the recovered documents. At the time, the Archives said it had had 'ongoing communications' with Trump's team about recovering missing presidential records." • I'm not sure how this fits into the theory of the case, if in fact there is one. Surely we aren't going to dwindle from a charge of insurrection to a violation of the Presidential Records Act? Also, if I have this right, if Trump is guilty of insurrection, he can't run, under the Fourteenth Amendment. The political payoff for Democrats is obvious. But I don't think a violation of the Presidential Records Act has an equivalent payoff. And speaking of records, we didn't indict Clinton for running an unsecured server out of the bathroom in her home while in office. So we're going to indict Trump? (For the "but her emails" crowd, that clever slogan obscures, as it is meant to, the real issue: The unsecured server.) The blogger who broke the story:

Scoop — The Federal Bureau of Investigation @FBI today executed a search warrant at Mar-a-Lago, two sources confirm to @Fla_Pol.

"They just left," one source said.

Not sure what the search warrant was about.

TBH, Im not a strong enough reporter to hunt this down, but its real. pic.twitter.com/hMsGhlVp3d

— Peter Schorsch (@PeterSchorschFL) August 8, 2022

Not to preen, but Yves would definitely have "hunted this down."

"FBI searches Trump safe at Mar-a-Lago for possible classified documents" [WaPo]. "Searching a former president's property to look for possible evidence of a crime is highly unusual and would require approval at the top levels of the Justice Department. It represents a historic moment in Trump's tortured relationship with the Justice Department, both in and out of the White House. A department spokeswoman declined to comment when asked whether Attorney General Merrick Garland approved the search. The FBI also declined to comment…. Trump nominated the current head of the FBI, Christopher A. Wray, to the position in 2017, after firing the previous FBI director, James B. Comey, amid a probe into whether any Trump campaign advisers had conspired with Russian operatives to influence the 2016 election." Trump is such a stone fascist he can't even appoint a head of the Secret Police who's loyal to him. And: "It was not immediately clear on Monday why FBI agents would conduct a search related to the documents many months after the 15 boxes of material were retrieved. A sitting president is the top classification authority in the government, giving that person far more leeway than most government employees in deciding what is and isn't classified." • Perhaps there's some major event coming up in a few months? Perhaps some other investigation didn't pan out?

A good question:

Dear journalists, you are asking the wrong questions. The FBI going to Trump's house to search for classified documents isn't the bombshell. Why was Trump still holding on to classified documents after 565 days? If the documents incriminated him, why not just destroy them?

— Christopher Bouzy (@cbouzy) August 9, 2022

(I don't believe the stories on Trump flushing documents down a toilet. For one thing, he's germaphopic, so what if the toilet get blocked? For another, Trump's New York real estate: The way to hide a document is to give it to your lawyer.

"Judge who approved FBI raid on Mar-a-Lago once linked to Jeffrey Epstein" [New York Post]. "The Florida federal magistrate judge who signed off on a search warrant authorizing the FBI raid of former President Donald Trump's Mar-a-Lago resort left the local US Attorney's office more than a decade ago to rep employees of convicted pedophile Jeffrey Epstein who had received immunity in the long-running sex-trafficking investigation of the financier. Sources tell The Post that Judge Bruce Reinhart approved the warrant that enabled federal agents to converge on the palatial South Florida estate on Monday in what Trump called an 'unannounced raid on my home.' Reinhart was elevated to magistrate judge in March 2018 after 10 years in private practice. That November, the Miami Herald reported that he had represented several of Epstein's employees — including, by Reinhart's own admission to the outlet, Epstein's pilots; his scheduler, Sarah Kellen; and Nadia Marcinkova, who Epstein once reportedly described as his 'Yugoslavian sex slave.' Kellen and Marcinkova were among Epstein's lieutenants who were granted immunity as part of a controversial 2007 deal with federal prosecutors that allowed the pervert to plead guilty to state charges rather than federal crimes. Epstein wound up serving just 13 months in county jail and was granted work release." • Florida Man Grants Warrant. I don't want to draw the yarn too tight on the diagram. But a lot of people involved in this have form, and not just Trump.

* * *

"Hear Me Out: Trump Won't Run Again" [Slate]. "These days, it seems, no national reporter wants to be seen, once again, predicting ol' Donny won't be able to wriggle his way out of THIS jam. Those jams currently include continued unpopularity among the general electorate, falling support in the Republican Party, rising potential rivals in that party, public hearings that have exposed his extraordinary level of responsibility for the mob violence on Jan. 6, a civil case set to go to trial next year over an allegation that Trump committed rape, a civil investigation in New York that is pursuing allegations of fraudulent business practices against the Trump Organization, and a series of state and federal criminal investigations over Trump's actions surrounding Jan. 6. The point is that it should be easy to view Trump as an incredibly weakened figure who has better odds of ending up in an orange jumpsuit or losing his fortune in a lawsuit than returning to the White House. However, almost nobody in the national media seems to report it that way….. To me, Trump will be a politically crippled figure heading into the 2024 primary. At his most dangerous, he will be a political albatross hanging around the neck of the Republican Party, tearing it apart." •

"The Appeal of Ron DeSantis" [The American Mind]. Hagiography on a fund-raising letter, certainly a new thing: "Our country is currently facing a great threat. A new enemy has emerged from the shadows that seeks to destroy and intimidate their way to a transformed state, and country, that you and I would hardly recognize…. This enemy is the radical vigilante woke mob that will steamroll anything and anyone in their way. Their blatant attacks on the American way of life are clear and intensifying: stifling dissent, public shaming, rampant violence, and a perverted version of history." • Dunno how you characterize a billionaire as a member of a mob, but here we are. In fact, the author agrees: "DeSantis tells us the enemy is a "radical vigilante woke mob." I am not certain this is the best way to describe the enemy, which is not, in fact, a bunch of outlaws. It is, as DeSantis later acknowledges, a loose confederation of the country's major institutions, in his words, 'media, educational institutions, corporate boards, professional sports, foundations, and professional institutions.' I would add to this list the Democratic party and the 'administrative state.' I call this confederation the 'Woke Communists'—'Woke Comms' for short— which is a modern-day decentralized totalitarian regime. Like all such regimes, the Woke Comms aim to control, not just politics, but all aspects of public and private life." • One of the funnier aspects of conservative discourse is that they have — do not seem not to have, but do not have — what communism actually is. Do you hear any members of this "confederation" (hmm) advocate for ownership of the means of production by the working class? No? Then no communists. Bury My Heart at Jerking Knee, a book I must read one of these days.
Republican Funhouse
MTG wants my vote (1):

DEFUND THE FBI!

— Rep. Marjorie Taylor Greene🇺🇸 (@RepMTG) August 9, 2022

MTG wants my vote (2):

Since the CIA is running the war in Ukraine that Americans don't want to be in and leading the air strikes to kill Al Qaeda terrorists, they should be giving the speech tonight and taking questions from the press.

Put Joe to bed early with a dose of Ivermectin.

5/5

— Rep. Marjorie Taylor Greene🇺🇸 (@RepMTG) August 1, 2022

Lots of MTG views I could never be converted to in a million years. But how come she's getting these things right, and not one single Democrat is? I'm so old I remember when Democrats didn't love cops and spooks!
Democrats en Déshabillé
I have moved my standing remarks on the Democrat Party ("the Democrat Party is a rotting corpse that can't bury itself") to a separate, back-dated post, to which I will periodically add material, summarizing the addition here in a "live" Water Cooler. (Hopefully, some Bourdieu.) It turns out that defining the Democrat Party is, in fact, a hard problem. I do think the paragraph that follows is on point all the way back to 2016, if not before:

The Democrat Party is the political expression of the class power of PMC, their base (lucidly explained by Thomas Frank in Listen, Liberal!). ; if the Democrat Party did not exist, the PMC would have to invent it. . ("PMC" modulo "class expatriates," of course.) Second, all the working parts of the Party reinforce each other. Leave aside characterizing the relationships between elements of the Party (ka-ching, but not entirely) those elements comprise a network — a Flex Net? An iron octagon? — of funders, vendors, apparatchiks, electeds, NGOs, and miscellaneous mercenaries, with assets in the press and the intelligence community.

Note, of course, that the class power of the PMC both expresses and is limited by other classes; oligarchs and American gentry (see 'industrial model' of Ferguson, Jorgensen, and Jie) and the working class spring to mind. Suck up, kick down.

* * *
Realignment and Legitimacy
The successor ideology:

If you ever doubt that you can change your path in life, just remember that this person went on to become the Senate's top defender of hedge funders and private equity #inspiring #inspiration pic.twitter.com/dG7li95DqZ

— Dan Amira (@DanAmira) August 8, 2022

Meanwhile, or rather by design, private equity rolls right along, good job Democrats.

"McCarthy Says House Investigation of Hunter Biden Will Include U.S. Intel Chiefs" [National Review]. "House minority leader Kevin McCarthy said the chamber's investigation into Hunter Biden will include a probe of U.S. intelligence agencies and chiefs who likely knew about his foreign business dealings while his father, Joe Biden, was vice president…. He added that House Republicans want to question former intelligence agency officials who signed onto an open letter in October 2020 dismissing the New York Post's reporting about the contents of the younger Biden's recovered laptop as Russian disinformation." • Excellent. I wish the Republicans would stop giving me reasons to vote for them.
#COVID19
• "Relative Pandemic Severity in Canada and Four Peer Nations During the SARS-CoV-2 Pandemic" [medRxiv]. The Conclusion: "Canada outperformed peer countries that aimed for mitigation, rather than elimination, of SARS-CoV-2 in the first two years of the pandemic, likely because of a more stringent public health response to disease transmission. This resulted in substantial numbers of lives saved and economic costs averted. However, comparison with Australia demonstrates that an elimination focus would have allowed Canada to save tens of thousands of lives, and would have saved substantial economic costs." • The United States, naturally, was the worst performer of all the Five Eyes countries considered here. But speaking of Australia:
I think it's important to remember that when the going got really tough, Australia's leaders got together and worked out a way to stop trying at the same time so none of them could be held responsible.

— Covid is Airborne in schools (@AugersMonster) August 9, 2022
Sounds familiar!
* * *
• Once again on the teleology that viruses necessarily evolve away from virulence:
* Viruses do not automatically evolve to become less virulent. That is a myth. What is under selection is transmission and/or immune escape. Virulence is secondary.

* The landscape in which the virus evolves is changing host immunity and behaviour change.

— T. Ryan Gregory (@TRyanGregory) August 9, 2022
* * *
* * *
If you missed it, here's a post on my queasiness with CDC numbers, especially case count, which I (still) consider most important, despite what Walensky's psychos at CDC who invented "community levels" think. But these are the numbers we have.
* * *
Case Count
Case count for the United States: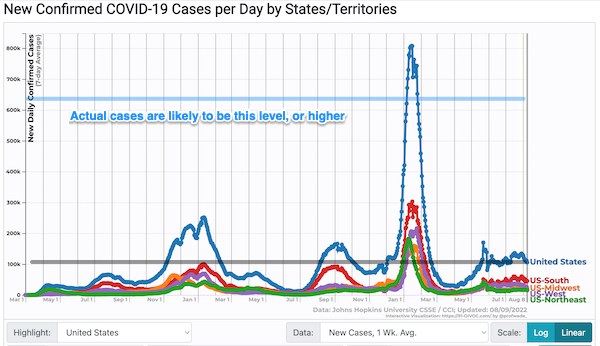 This looks hopeful, but today the drop is in California.
Cases are undercounted, one source saying by a factor of six, Gottlieb thinking we only pick up one in seven or eight.) Hence, I take the case count and multiply it by six to approximate the real level of cases, and draw the DNC-blue "Biden Line" at that point. The previous count was ~111,650. Today, it's ~105,500 and 105,500 * 6 = a Biden line at 633,000. per day. That's rather a lot of cases per day, when you think about it. (Remember these data points are weekly averages, so daily fluctuations are smoothed out.) The black "Fauci Line" is a counter to triumphalism, since it compares current levels to past crises. At least we have confirmation that the extraordinary mass of case anecdotes we've seen have a basis in reality. However, I'm not seeing the volume of anecdotes I did on the Twitter. What are readers experiencing?
Regional case count for four weeks: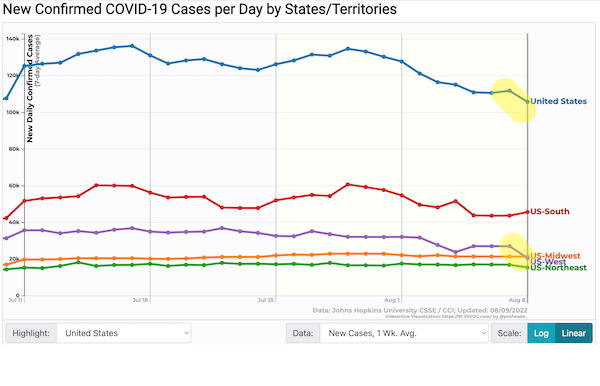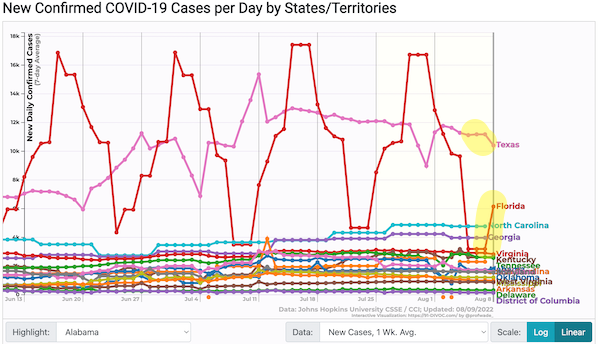 The South (minus Texas and Florida):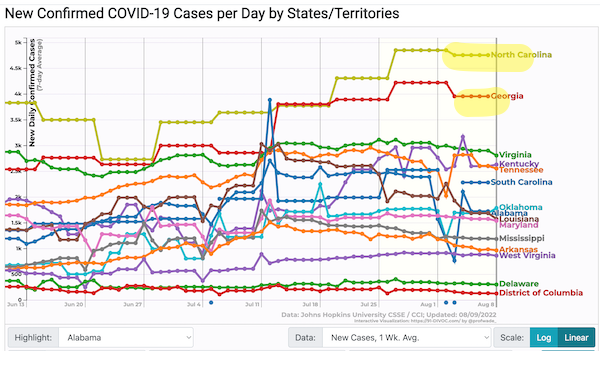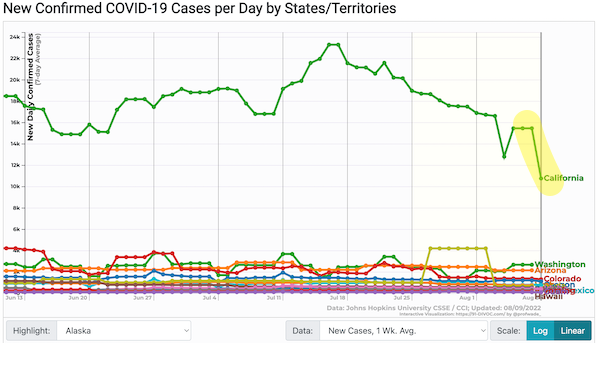 Today's national decline is due mainly to California.
Positivity
From the Walgreen's test positivity tracker, August 5: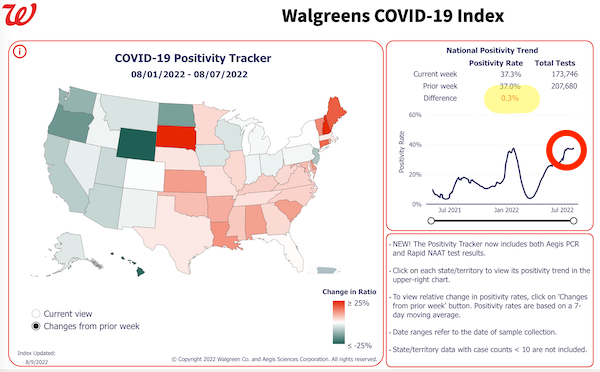 0.3%. (I wonder if there's a Keynesian Beauty Contest effect, here; that is, if people encounter a sympotomatic person, whether in their social circle or in normal activity, they are more likely to get a test, because they believe, correctly, that it's more likely they will be infected.) Starting to look like positivity has peaked, at least for Walgreen's test population.
Transmission
NOTE: I shall most certainly not be using the CDC's new "Community Level" metric. Because CDC has combined a leading indicator (cases) with a lagging one (hospitalization) their new metric is a poor warning sign of a surge, and a poor way to assess personal risk. In addition, Covid is a disease you don't want to get. Even if you are not hospitalized, you can suffer from Long Covid, vascular issues, and neurological issues. For these reasons, case counts — known to be underestimated, due to home test kits — deserve to stand alone as a number to be tracked, no matter how much the political operatives in CDC leadership would like to obfuscate it. That the "green map" (which Topol calls a "capitulation" and a "deception") is still up and being taken seriously verges on the criminal. Use the community transmission immediately below.
Here is CDC's interactive map by county set to community transmission. This is the map CDC wants only hospitals to look at, not you. For July 21, 2020: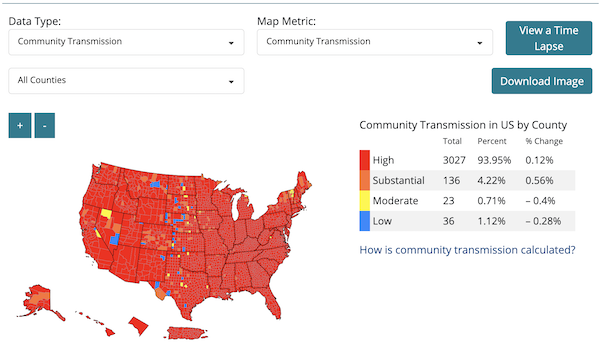 Some blue in flyover.
NOT UPDATED Rapid Riser data, by county (CDC), August 3: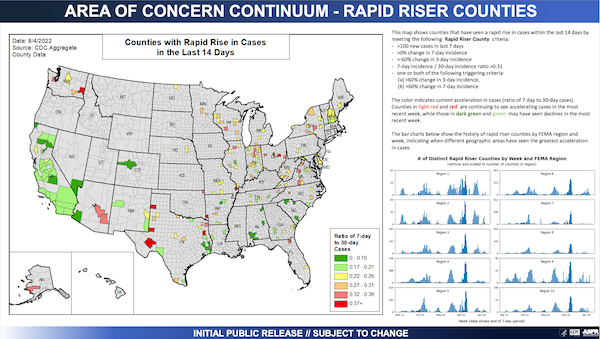 Improvements everywhere (except New Hampshire. Tourism?).
Previous Rapid Riser data: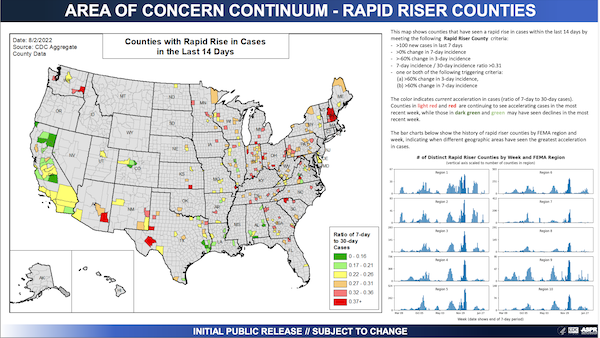 NOT UPDATED Hospitalization data, by state (CDC), August 3: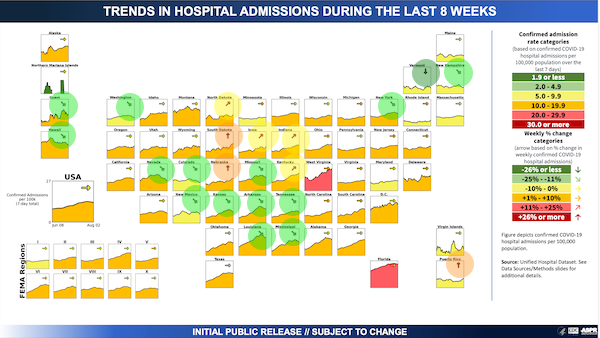 Volatile.
Variants
Lambert here: It's beyond frustrating how slow the variant data is. I looked for more charts: California doesn't to a BA.4/BA.5 breakdown. New York does but it, too, is on a molasses-like two-week cycle. Does nobody in the public health establishment get a promotion for tracking variants? Are there no grants? Is there a single lab that does this work, and everybody gets the results from them? Additional sources from readers welcome [grinds teeth, bangs head on desk].
NOT UPDATED Variant data, national (Walgreens), July 21: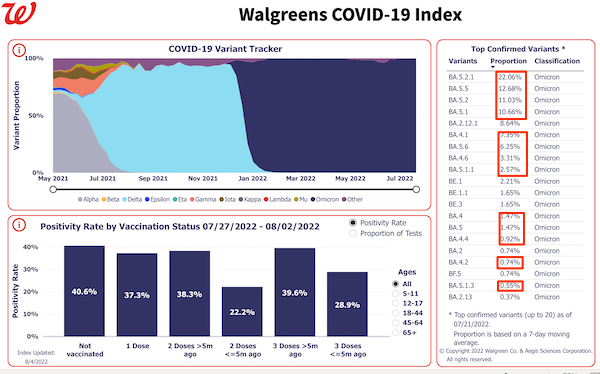 Variant data, national (CDC), July 23 (Nowcast off):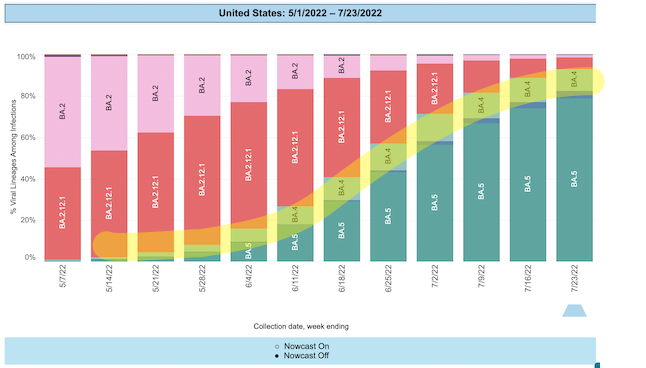 BA.5 moving along nicely.
Wastewater
Wastewater data (CDC), August 5: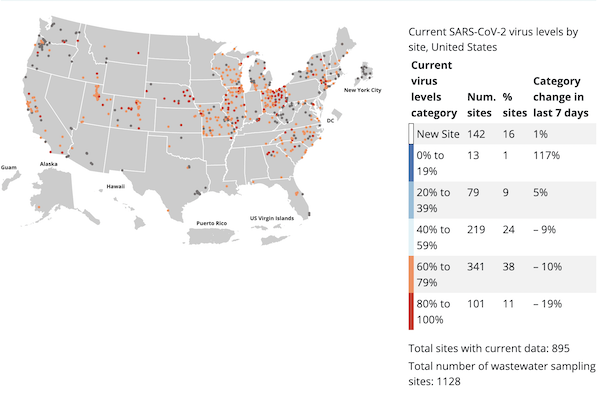 Red dots improved.
Lambert: I added grey for today. Grey, not on the legend at bottom right, is "No recent data." How is there no recent data for New York City, a major international hub and already the epicenter of at least one wave? How is there no for upstate New York, which only recently was full of rapdi riser counties? The same with West Virginia, Michigan, and Oregon. If I were the paranoid sort, I'd theorize that CDC moved in on the only accurate data source we've got, in order to corrupt and destroy it.
Deaths
Death rate (Our World in Data):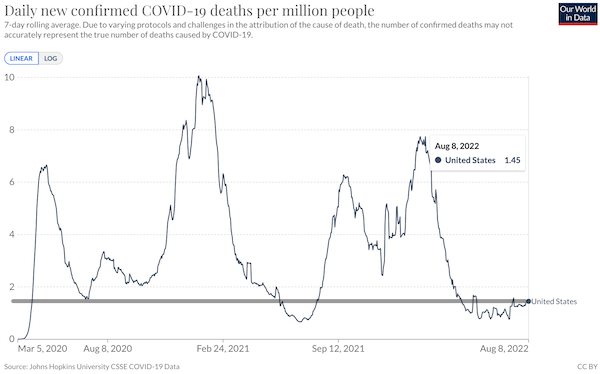 Total: 1,059,210 – 1,058,738 = 472 (365 * 472 = 172,280; the new norma. Fluctuates quite a bit, but even the low numbers are bad). Quite a pop. I have added an anti-triumphalist Fauci Line. It's nice that for deaths I have a simple, daily chart that just keeps chugging along, unlike everything else CDC and the White House are screwing up or letting go dark, good job.
Naked Capitalism Cooking Community™
Stats Watch
The Economy: "United States Nfib Business Optimism Index" [Trading Economics]. "The NFIB Small Business Optimism Index in the United States edged higher to 89.9 in July of 2022 but still remained close to a 9-1/2-year low of 89.5 hit in June, pointing to a subdued level of confidence, well below the historical average of 98. 37% of business owners reported that inflation was their most important problem and 49% had job openings they could not fill."
* * *
* * *
Today's Fear & Greed Index: 49 Neutral (previous close: 49 Neutral) [CNN]. One week ago: 40 (Fear). (0 is Extreme Fear; 100 is Extreme Greed). Last updated Aug 8 at 1:07 PM EDT.
The Gallery
But where are the bears?
Caracalla and Geta. A Bear Fight in the Coliseum, 1909 #almatadema #lawrencealmatadema https://t.co/3WZVA2hJvl pic.twitter.com/lqNkmZD63y

— Lawrence Alma-Tadema (@AlmaTademaArt) August 9, 2022
I watch Lawrence Alma-Tadema go by on my timeline with horrified fascination. But ZOMG, the detail.
Zeitgeist Watch
Hard to find a better example of performative liberalism than this:
How do we mourn Covid's victims while the pandemic still unfolds?

An intricate wooden structure was set ablaze in Britain by its creators. Images of victims were projected onto the Brooklyn Bridge. Ribbons were tied to a church fence in South Africa.https://t.co/yL9kk2MpZF pic.twitter.com/BjIcUfEXKJ

— The New York Times (@nytimes) August 9, 2022
Why not mourn the deaths by building a Corsi box and giving it away? Or giving away masks? Or setting CDC headquarters ablaze, plowing the rubble under, and then salting the earth?
Class Warfare
The world of NGOs:
.@SEWAFed, India's largest union of informal sector workers and longtime partner of @rockefellerfdn, distributed innovative solutions to keep women salt miners hydrated. Here's how we're meeting the climate challenge and #MakingOpportunityUniversal https://t.co/HJGqIKnJ5t pic.twitter.com/kZljv5a4qD

— The Rockefeller Foundation (@RockefellerFdn) August 8, 2022
"Innovative solutions to keep women salt miners hydrated" is the most neoliberal sentence I've ever read.
"SC Starbucks manager alleges kidnapping during union confrontation, TikTok video shows otherwise" [The State]. "An effort to form a union at an Anderson, South Carolina, Starbucks boiled over when a manager called law enforcement alleging kidnapping and assault and the company closed the store. A TikTok video shows the Aug. 1 encounter at the Clemson Boulevard exit along Interstate 85, beginning with the manager, who was not identified, on the phone sitting at a table with a dozen or so employees standing nearby. The manager then gets up, walks past them and to the front of the store, nudging one employee as they pass. Someone says, 'Why are you pushing him?' The manager is apparently on the phone with law enforcement. A spokesman for the Anderson County Sheriff's Office could not be reached for comment on whether charges were actually filed. Ian Hayes, a lawyer representing the Starbucks union, said at a press conference Monday the union has filed a complaint with the National Labor Relation Board charging Starbucks with illegally retaliating against workers while they engaged in permitted union activity." • What we have here is faliure to communicate.
"The Jobs Effect of Ending Pandemic Unemployment Benefits: A State-Level Analysis" [Federal Reserve Bank of St Louis]. A natural experiment: "This note uses the asynchronous cessation of emergency unemployment benefits (EUB) in 2021 to investigate the jobs impact of ending unemployment benefits. While some states stopped providing EUB in September, other states stopped in June and July. Using the cessation month as an instrument, we estimate the causal effect on employment of reducing unemployment rolls. In the first three months following a state's program termination, for every 100 person reduction in beneficiaries, state employment causally increased by about 35 persons. The effect is statistically different from zero and robust to a wide array of alternative specifications." • So what the Fed is really saying — hear me out — is that The Bearded One is not only correct on the role of the Reserve Army of Labor, but on the power relation between capital and labor generally? The whole "sell your labor power to survive" bit?
News of the Wired
"How to Fall Out of Love With Your Lawn" [New York Times]. "While the lawn may be a powerful symbol of American postwar prosperity, it's also an ecological dead zone that's sucking the nation's aquifers dry. In this video essay we argue that it's time to kill your lawn, not just to save the planet, but for your own health and sanity too. And while the idea of euthanizing such a beloved member of the family might seem harsh, we show the alternatives that could make the loss more bearable." • Oh good, a "video essay." No transcript. Naturally.
"What the Romans Did for Us" (podcast) [Gone Medieval]. "Early Medieval Britain was more Roman than we think. The Roman Empire left vast infrastructural resources, not least roads, walls and bridges. Why have they survived so well? And what did the people who lived here immediately after the Romans think of them and do with them?" • Not our first Jackpot, eh? Though the current one is shaping up to be worse. Of course, the Romans left bridges and roads. We're going to leave…. cellphones. Not the same. Still, fascinating show with clever historiography. Naming the most important infrastructure would be a spoiler, so I won't do it. Today is my day to be kind.
* * *
Contact information for plants
: Readers, feel free to contact me at lambert [UNDERSCORE] strether [DOT] corrente [AT] yahoo [DOT] com, to (a) find out how to send me a check if you are allergic to PayPal and (b) to find out how to send me images of plants. Vegetables are fine! Fungi and coral are deemed to be honorary plants! If you want your handle to appear as a credit, please place it at the start of your mail in parentheses: (thus). Otherwise, I will anonymize by using your initials. See the previous Water Cooler (with plant)
here
. From Peter: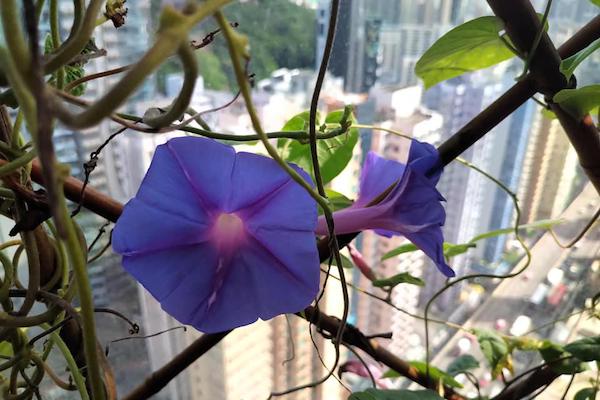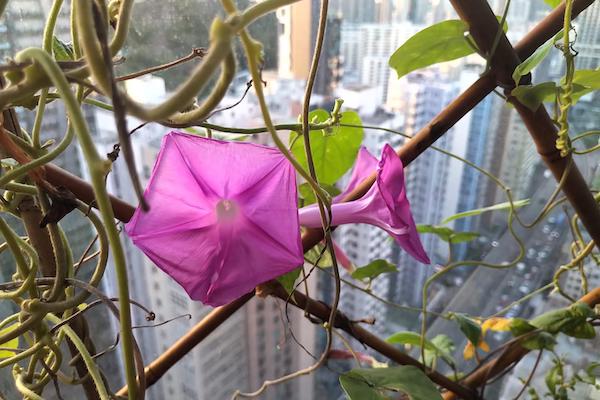 Peter writes: "Before the Hong Kong summer heat and humidity overwhelmed them, and they sadly didn't recover during our 'winter' – as a botanical neophyte I found it surprising and beautiful that these morning glories changed color from morning to evening."
* * *
Readers
: Water Cooler is a standalone entity
not
covered by the annual NC fundraiser. So if you see a link you especially like, or an item you wouldn't see anywhere else, please do not hesitate to express your appreciation in tangible form. Remember, a tip jar is for tipping!
Regular positive feedback both makes me feel good and lets me know I'm on the right track with coverage
. When I get no donations for five or ten days I get worried. More tangibly, a constant trickle of donations helps me with expenses, and I factor in that trickle when setting fundraising goals:
Here is the screen that will appear, which I have helpfully annotated: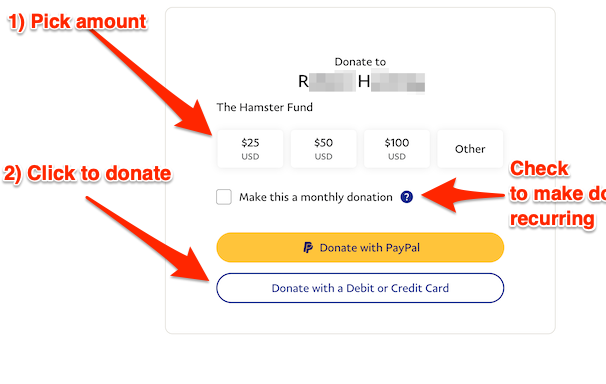 If you hate PayPal, you can email me at lambert [UNDERSCORE] strether [DOT] corrente [AT] yahoo [DOT] com, and I will give you directions on how to send a check. Thank you!